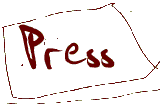 click for funny stuff like:
"Superb, technically ingenious... passionate and serious, but also playful and funny. ...when Moran's short-fuse pauses ignite into four-malleted pyrotechnics, it's like hearing an angel have a seizure." -Village Voice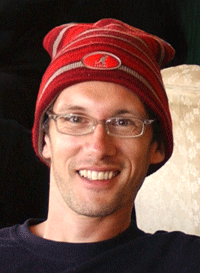 Selected
Discography
As leader:
Slavic Soul Party!
"BIGGER"
(Barbés Records)
Get the CD!
Listen
Slavic Soul Party!
"In Makedonija"
(Knitting Factory)
Get the CD!
Listen
Sideshow
"Songs of Charles Ives" (BlueShift)
Get the CD!
Listen
Matt Moran's Larobok i
"blurred and somewhat indistinct" (Geode)
Get the CD!
As sideman:
The Claudia Quintet
"Semi-formal"
(Cuneiform)

"I, Claudia"
(Cuneiform)

"The Claudia Quintet"
(BlueShift)
Billy Martin
"The Turntable Sessions"
(Amulet)
Ellery Eskelin
"Vanishing Point"
(hatOLOGY)

Theo Bleckmann
"Origami"
(Songlines)
Frank London's Klezmer Brass Allstars
"Brotherhood of Brass" (Piranha)
Joshua
"Gold Cosmos"
(feather one's nest)
Dorgon y su grupo
"Dorgon y su grupo"
(Jumbo Recordings)
Various Artists
"Vision One - Vision Festival 1997 Compiled"
(AUM Fidelity)

Biography

Vibraphonist and tunesmith Matt Moran "plays the vibraphone like a speed-chess master, always darting off into flurries of ingenious, unexpected activity" (Village Voice). He has performed and recorded with artists as diverse as Mat Maneri, Lionel Hampton, Combustible Edison, Ellery Eskelin, and Saban Bajramovic. Moran's sound is integral to an innovative group of New York musicians who blur the boundaries of composition, improvisation, and folk traditions.
Moran received a Master's degree in jazz composition from New England Conservatory in 1995. At NEC he studied with the visionary composer and multi-instrumentalist Joseph Maneri, and has continued to learn from Maneri through performances with him. Since moving to New York in 1995 he has performed both as leader and sideman, including billings for the Knitting Factory's What Is Jazz? Festival, the JVC Jazz Festival, the Panasonic Village Jazz Festival, Lincoln Center Out-of-Doors, and the Vision Festival, as well as leading tours in the U.S. and Europe.
TimeOut New York praises Moran and his collaborators for "such unusual breadth and wonderful inconsistency that calling it simply 'jazz' paints it into an inaccurate corner. Their performances don't focus on displays of whirring virtuosity (though that's certainly a part) or even on the nebulous quality of 'soul.' Instead, the musicians attempt to work beyond or outside the patterns to which they would ordinarily gravitate."
Also active as a performer, teacher, and curator in the Balkan folk music scene, Moran plays traditional percussion with artists such as Lefteris Bournias, Raif Hyseni, Demetri Tashie, and other master musicians from the Balkans who have immigrated to New York. With Slavic Soul Party!, he sparked "Balkan Cabaret", a downtown music series for Balkan and Balkan-inspired music.
Moran currently leads the groups Sideshow and Slavic Soul Party! He is also active performing and recording with John Hollenbeck's Claudia Quintet, the Mat Maneri Quintet, Theo Bleckmann, Dan Levin, Nate Wooley, Kavala Brass Band, and Zlatne Uste Balkan Brass Band.
Photo: Valerie Trucchia